Hello Everyone,
Welcome to another post of inspiration using the MHKDesigns release set for this month,
Valentine Roses
! Here is my card for today, enjoy!
Some of you may know my style by now. I like to enlarge images and take pieces from it to create a card. This design is no exception. Enlarging the rose gives the image a whole new look.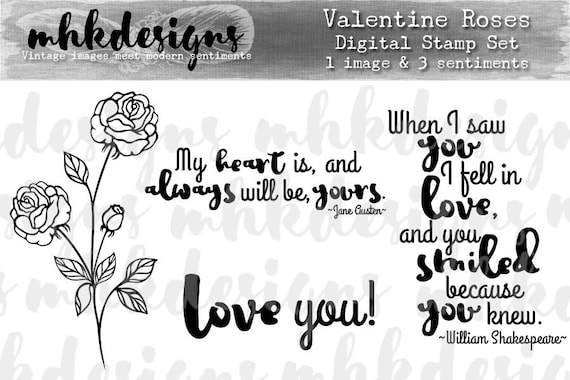 _____________________________
MHKDesigns vintage images work so well with each other._
I invite you to check out her
Etsy store
and see for yourself
the versatility of stamp sets and the variety of digital papers we have to offer
______________________________
I do enjoy the white space with minimal distractions.
The sentiment banner and the single heart embellishment seems to be just enough to enhance the design.
The watercolor effect is all digital.
I used the main stem of the rose as a literal divider then reversed the background on either side.
Since you are here, I encourage you to browse our blog and for more inventive ideas from the MHKDesigns talented design team. It is also our hope that you can play along with our monthly challenge. If not, sit back, and browse a bit of eye candy.
There is a lot more to discover at MHKDesigns Etsy Shop! Stop on over and see what we have to offer. It is certain to spark the imagination. So, thank you for stopping by and hope to see you soon. Take care and happy crafting.